Helmsdale (Gaelic: Bun IIlidh) is a village of population 848 on the east coast of Sutherland. The modern village was planned in 1814 to re-settle communities that were forced to move from the surrounding straths during the Highland Clearances.
Fishing was intended to be the new livelihood and Helmsdale became home of one of the largest herring fleets in Europe. It lies at the mouth of the Helmsdale River, a river well known for its salmon fishing.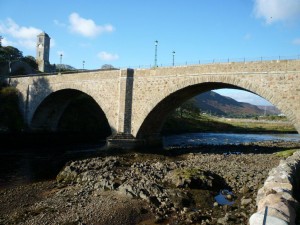 West Helmsdale, and the railway station lie just across the river from the main village, linked by Thomas Telford's road bridge built in 1809. From the station it is a 4 minute walk to the centre of the village.
A more detailed history of Helmsdale can be found at http://www.helmsdale.org/history.html
The settlement lies on the A9 as well as on the Far North Line linking Inverness with Thurso and Wick on the north and west coasts. At Helmsdale the railway line diverges from the main road and the coast and heads north inland up Strath Kildonan and across the Caithness flow country, one of Britain's few surviving wilderness areas.
Following the decline of the fishing industry the fragile economy of the community depends to a large degree on tourism. Facilities in the village include Timespan Heritage & Arts Centre, two mini supermarket shops, a renowned fish and chip restaurant & take-away – La Mirage, two inns and a youth hostel. Further information is available on the community website at http://www.helmsdale.org and see also Local Attractions & Links.
Further information about local amenities and services is available from the Helmsdale Service Point (01431 821690) which is situated in the Community Centre, Dunrobin Street, KW8 6JX
Opening Hours
Monday 10.00am – 12.00pm: 3.00pm – 5.00pm:  6.00pm – 8.00pm
Tuesday, Wednesday & Friday 10.00am – 12.30pm
Thursday 10.00am – 12.00pm:  3.00pm – 5.00pm
Being on the east coast, the rainfall here is around one third of that on the west coast and the coastal location contributes to a generally mild climate.